West County News-Journal
; Girard, PA
Thursday 27 April 2006
Vol. 2, No. 44 — Page 1
Girard student sings his heart out at State Choir Festival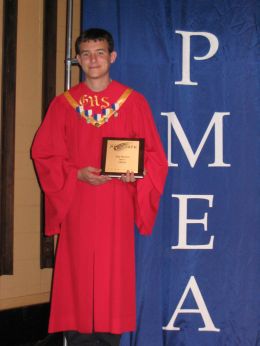 From the time Timothy Parenti was in first grade, he developed a love of music, and that love has been with him ever since.
Parenti, son of Helen and Mike Parenti of Girard, recently represented Girard High School at the State Chorus Festival, held in the Valley Forge area over March 29 to April 1.
"I've been interested in music since first grade when my mom encouraged me to take up piano," Parenti said. "I began taking lessons, and flew through the first book [of lessons]. After that I decided that I liked it."
For the past two years, Parenti has participated in District Band and District Chorus, and this year advance to state competition. In band, where Parenti lays the trumpet, he missed advancing to states by one chair.
Parenti explained that directors nominate students to participate in District Band. "Once you're nominated, there is a lottery to determine who gets to go, it also depends on how many seats are left at Districts."
Once at Districts, Parenti explained that students audition for chair placements and that the highest chairs advance to Regional competition. "The top half of each instrument or voice goes on to Regionals," he said. "And to go from Regionals to States, you have to be in the top 20 percent."
When Parenti found out he was going to represent Girard at States, he found himself a little nervous. "I Knew that I would be with 240 of the best high school singers when I went to States," he said. "I was very excited for the opportunity to be selected, it truly was an honor."
The State Chorus Festival was a combination of several different conferences and festivals including state choir, band, orchestra, and jazz band, among others. During the event, three concerts were held, each featuring two ensembles.
Parenti, who was nominated by Girard's music teacher Carrie Rose, explained that some directors were seeing green at his nomination. "Some directors were a bit jealous of her getting me to states in her first year of teaching," he said. "She was very humbled and gave the credit to me."
Of the six students Rose nominated, all six went to District competition, and Parenti was the only student who advanced to States.
However, Parenti's busy schedule prevented him from practicing as often as he would have liked.
"I got the District music in November and had a few months to practice that," he said. "I got the music for Regionals at Distrcits and had five and half weeks to practice before Regionals were to be held."
State competition was scheduled for March 29, and Parenti only had 11 days to practice for States, due to a marching band trip to Disney World.
"It was a lot of fun," he said. "I was very excited and honored to go to States."
Including this year's festivals, Parenti has performed in 11 Pennsylvania Music Educators Association (PMEA) festivals.