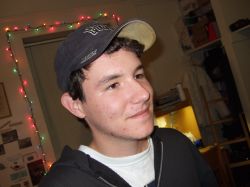 Photo Credit: William Burroughs IV
Greetings. I am Tim Parenti, a 30-year-old who might best be described as an "overall enthusiast" in just about everything.
I was born in Erie, Pennsylvania on 4 January 1988 (during what I'm told was quite the snowstorm) and attended Girard High School, from which I graduated as salutatorian on 8 June 2006. I graduated cum laude from the Swanson School of Engineering at the University of Pittsburgh's main campus on 18 December 2010 with a BSE in Chemical Engineering, an undergraduate certificate in Nuclear Engineering, and a minor in Music.
After graduate study at Pitt's Department of Computer Science, I am now working as a software engineer for the Integrative Design, Arts & Technology Network (IDeATe) at Carnegie Mellon University.
Family
My family consists of my mother, who works for Allegheny Health Network at Saint Vincent Hospital in Erie; my father, who works at the School of Dental Medicine at the Lake Erie College of Osteopathic Medicine in Erie; and a 26-year-old brother, David, who graduated with a BS in Statistics from Penn State in 2016 with an actuarial focus.
Interests
My interests can be considered either widely varied, well-rounded, or both. I often take particular interest in the kinds of little things that seem not to interest many others.
Music, however, is a big part of my life. I have been playing the piano since 1994 and the trumpet since 1998, and I have sung in various choirs since 2000. In high school, I participated in a five-octave handbell choir from 2003 to 2006, while my instrumental and choral achievements earned me several PMEA honors, including fifth chair at All-State Chorus in 2006.
Throughout my undergraduate study, I continued to exercise my musical talents through active involvement in the University's marching band, symphonic band, and pep band, as well as in the Heinz Chapel Choir. As an alumnus, I remain active with the Pitt Band Alumni Council, of which I have been treasurer since 2012.
I have also pursued my musical interests by composing several original musical works since 2001, mostly piano soli, although I have also written a piano-trumpet duet as well as several arrangements for my hometown church's two-octave handbell choir.
During my graduate study, I worked as a part-time instructor for Pitt's Computer Science Department (2013–2015), and also served as president of the department's Graduate Student Organization (2013–2015), acting as a delegate to higher levels of graduate student government at Pitt.
Hobbies
In my spare time, I maintain websites and administer Facebook pages for various clients, including Lambec Music Camp and FootSteps of Erie County. My past work has also included maintenance of sites for the Rice Avenue Community Public Library in Girard (2005–2016), the Heinz Chapel Choir (2007–2010), the University of Pittsburgh Varsity Marching Band (2008–2009), and the Girard High School Marching Band (2002–2006). I've also kept a personal blog, albeit a poor one, since 2005; I'm hoping to get better, but that's far from the first time I've said that.
I have also begun to take interest in amateur radio. I'm not particularly active, but I hang out with the Carnegie Tech Radio Club at Carnegie Mellon University, and if you're lucky enough to be in the right place at the right time, my call sign is KC3FRM.
When time and weather allow, I have also been found enjoying walking and running; and when friends are available, I enjoy geocaching. The key, though, is time.
Random stuff
I'm reasonably autodidactic. For example, to help augment my formal education in Computer Science, I've taken a few MOOCs through Udacity.
It irks me when perforated paper fails to tear at its perforations. This applies broadly to everything from notebook paper to toilet paper.
Like a sizable minority of the population, I have the photic sneeze reflex. At times, it's actually helpful; at others, it's utterly annoying. If you see me sneezing a lot, it's probably not allergies or an illness; it's probably just bright.
My views on politics, religion, and related topics are quite complex. Although such opinions do make their way to the Internet, please know that no one part of them constitutes the whole. As such, I will not detail them here.
Text last updated on 7 January 2017. Since that's a while ago now, you might want to give me a nudge.
Learn more: